ELYON NEWS
Announcements
OCT 16. 2021
A Guide to Luminus
Luminus are illuminants that act as a sort of pet. They are created when the waves of a constellation combine with Harth's mana. While they don't appear to be sentient, they can be absorbed into the body of whoever obtains them. Once you've absorbed a Luminus, you can then summon it to activate its unique powers. Luminus will boost the stats of their summoner and aid them in battle.
Onto the more technical stuff! There are at least 11 Constellations of which we know. Along with the constellation, Luminus can obtain the traits of one of the 6 Rune Attributes which can assist the player by adding points to their Rune Attributes tree. The color of the Luminus determines which Rune Attributes are getting additional points.
They have varying grades which equate to their strength of the unique powers they can grant the summoner. We usually rank their strengths from Grade 1 to Grade 5. The higher the grade, the higher the values and stats.


If your Luminus is not very strong, fear not! You can increase the strength of your Luminus by fusing other Luminus with it! The higher the grade of the Luminus used in the fusion process, the higher chance your Luminus has of growing stronger. With that being said, it also goes to say that the stronger your Luminus, the stronger the Luminus that is being used in the fusion process needs to be.

During the fusion process, there is also a certain chance for Luminus to become "Blessed". This will increase the Luminus' powers a little more than your average Luminus at the same grade.
If you use Luminus that is the same grade as your Luminus, it will give you a 50% chance to succeed, and it lowers by half with each grade lower than your Luminus. Check the table below for easier understanding!

You can use up to two Luminus of any grade for fusion material. However, the Luminus you want to upgrade always needs to be a higher grade than the ones you use for fusion material. For example, you cannot use a Grade 4 Luminus to upgrade a Grade 3 Luminus.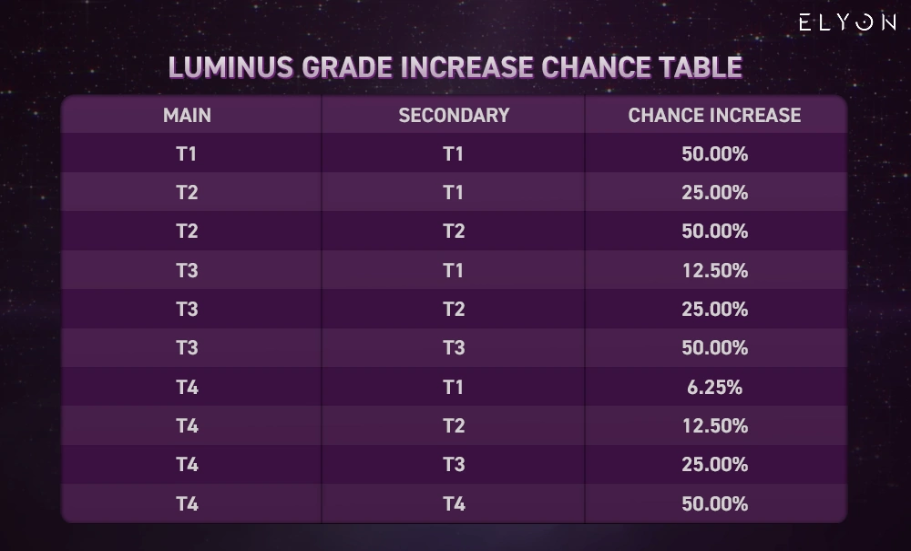 Below we have added a table of all the Luminus currently available and the additional stats they provide.
NAME

GRADE 2

Rune Points +2

GRADE 3

Rune Points +4

GRADE 4

Rune Points +7

GRADE 5

Rune Points +11

ALTAR
Increases Max Weapon ATK by 25/50/75/100
Increases all Magic Power by 3/4/5%
Increases Critical Hit Power by 6/7,5%
Increase Critical Hit Rate by 5%
ARROW
Increases the power of all projectiles by 2/3/4/5%
Increases the Critical Hit Rate of all projectiles by 3/4/5%
Increases DMG to monsters by 8/10%
Increases the Critical Hit Power of all projectiles by 10%
COMPASS
Increases the Power of ground-targeted skills by 2/3/4/5%
Increases the Critical Hit Rate of Ground-targeted skills by 3/4/5%
Increases DMG to monsters by 8/10%
Increases the Critical Hit Power of Ground-targeted skills by 10%
CORONA
Increases Max Weapon ATK by 25/50/75/100
Increases Physical DMG by 3/4/5%
Increases Critical Hit Rate by 4/5%
Increases Critical Hit Power by 7,5%
CRUX
Decreases DMG by 2/3/4/5% when HP is 50% or less
Increases DMG by 4,5/6/7,5% when HP is 50% or less
Increases Critical Hit Rate by 6/7,5% when HP is 50% or less
Increases HP Absorption by 50 when HP is 50% or less
DRAGON
Increases PvP DMG by 2/3/4/5%
Decreases incoming Critical Hit DMG by 6/8/10%
Decreases incoming PvP DMG by 4/5%
Decreases Skill Cooldown by 5%
EAGLE
Increases Acceleration by 10/15/20/25
Increases Accuracy by 10/15/20
Increases continuos Energy Recovery per sec by 3/4
Increases Skill Attribute Points by 15
HYDRA
Increases Acceleration by 10/15/20/25
Increases Dark Magic Damage by 4.5/6/7.5%
Increases Physical DMG by 4/5%
Increases HP Absorption by 25
LYNX
Increases the Power of Rear Strike by 2/3/4/5%
Increases the Critical Hit Rate of Rear Strike by 3/4/5%
Increases DMG to monsters by 8/10%
Increases the Critical Hit Power of Rear Strike by 10%
LYRA
Increases Healing given by 3/4,5/6/7,5%
Increases continuous DMG/continuous Heal duration by 9/12/15%
Increases continuous Heal Power by 6/7%
Increases Magic DMG by 5%
SHIELD
Increases DEF/Magic Resistance by 150/200/250/300
Increases Max HP by 3/4/5%
Increases Incoming Healing by 4/5%
Increase HP Absorption by 25