ELYON NEWS
Announcements
SEP 10. 2021
Elyon will Now be Free to Play
It's clear that 2021 has been the year of the MMO, with an incredible lineup of titles in the genre set for release in the coming weeks and months, with some fantastic entries being released. Whilst we feel that Elyon can hold a unique and competitive place amongst them all, we also understand that the time investment required for any MMORPG is not necessarily compatible with an abundance of choice. Thus, after thoughtful consideration, our dedicated team has decided to make what we feel are necessary changes to our business model.
One such change is transitioning Elyon to a Free-to-Play model.
Which means a delay…
And we must get to work adjusting that model and some backend systems. Thus, we will push the release of Elyon to October 20th. We'll also make good use of this time to work on some quality of life changes to the game based on the feedback we received during our Closed Beta Tests, including bugs identified with the launcher, various systems we intend to streamline, as well as other polishes and overall experience improvements.
What about those of us who already pre-ordered?
The game access in the base package will be replaced with 2,000 Rubies, Elyon's paid in-game currency. Of course, anyone who made a purchase prior to this announcement will be able to request a refund. If after the upcoming changes to Elyon you are unhappy with your purchase you can contact our customer support team and your request will be accepted and processed as quickly as possible.
So, how will the packs work now?
Since the vast majority of the value of the packages came from the additional items that were included, not much has actually been changed. The game access has been replaced with the 2,000 rubies of in-game currency, but all other benefits remain untouched and will remain available.
This also means that we need to temporarily make purchases of the packages unavailable starting as of this announcement. We plan to re-open the website store on September 28th. It's likely that Steam will follow a different schedule.
[Update:] The Wayfarer Package will grant you the same 72 hour Headstart as it replaces the old Base Game.
Now that it's Free To Play, does that mean you will be altering the cash shop?
That is not our intent. We also wish to note that our vision for the cash shop contained within Elyon has not changed. We hope this shift will bring in more players to build a healthier community for Elyon.
What about the Headstart?
The idea behind the tiered headstart was to introduce players to the game in waves rather than have an overly crowded launch. However, after listening to feedback from the community we've decided to give everyone the full 72-hour headstart as long as they make any purchase prior to release. Again, since we're making changes to the products we advertised, we'll be giving additional Rubies as compensation to those who already made their purchase prior to this announcement.
[Update:]
This means that if you pre-ordered the Base Game (now Wayfarer Package), you will start your Elyon adventure with 2,000 Rubies. You will still get 1,000 additional Rubies if you pre-ordered the Expansion Package and 2,000 additional Rubies if you pre-ordered the Expedition Package. Besides that, you will receive an additional 1,000 Rubies to your total if you pre-ordered either one of them. You will receive an extra 2,000 Rubies if you pre-ordered both Packages.
To summarize:
Wayfarer Package = 2,000 Rubies
Wayfarer Package + Expansion Package = 4,000 Rubies
Wayfarer Package + Expedition Package = 5,000 Rubies
Wayfarer Package + Expansion Package + Expedition Package = 7,000 Rubies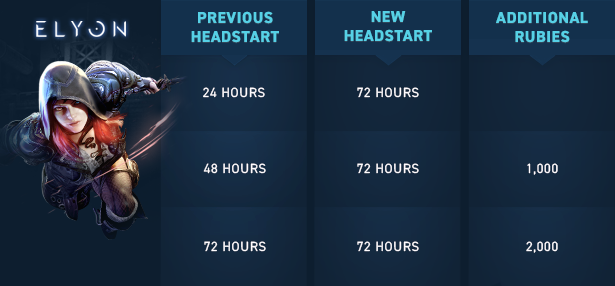 *These additional Rubies will not be distributed to anyone that purchases after this announcement (September 10).
To those eager to start playing…
While this wasn't an easy decision, we feel it is ultimately the correct one. For anyone disappointed, particularly those who pre-ordered, or marked time off their calendar to dive into Elyon this September, we deeply regret causing this disruption to you. We hope you understand our intent is to bring you the very best Elyon we possibly can.
In the meantime, we'll be far from radio silent. In fact, expect us to run some fun events and streams leading up to launch. We'd be thrilled if you joined us in participating in those when we announce details. Please keep an eye on our social channels or just come hang out with us on Discord.
- Elyon Team